MERLIN medieval tent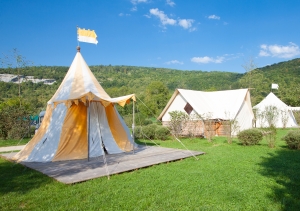 Stay in a 14th century tent: take on the role of a Knight or a Noble Lady! This true replica of a 14th century knight's tent was created for your enjoyment, but also for your comfort! Pleasant dwellings equipped with real beds and warm blankets
The Merlin knight's tent is equipped with: 1 double bed, 1 twin bed (sheets, blanket, pillow), storage unit, coffee table, chairs, safe and terrace.
A kitchen tent, shared by two medieval tents, is set up in the centre of camp, divided into two distinct areas to create a dining area for each family! Wooden table and benches, cabinet with dishes and kitchen utensils, refrigerator, microwave and coffee maker.
Outside, a log table seats 8 and a fire pit with a grill for barbecuing (provided) will make for an unforgettable journey through time.
Availability
Open from 02/04/2019 to 07/10/2019
A highly recommended campsite! !

camping nature